I know we are all craving Springtime at this point, and nothing makes the flowers bloom and the sun come out like a Jane Austen affair!
Anyone who knows me also knows of my love of all things Jane Austen and Regency England! It's why I chose an empire-waisted wedding dress, and it's also why my life stops come Masterpiece Theater time!
While there are quite a few lovely and utterly romantic Austen-era details featured in this post, I must also confess that I'm using this topic as a personal excuse to showcase one of my all-time favorite bridal designers: Claire Pettibone!
Died and gone to heaven!
There are two Claire Pettibone dresses which particularly embody Regency-era fashion.
The Queen Anne's Lace dress:
And the Emma dress:
Pure bliss!
Other Pettibone beauties of Regency note:
The Akoya dress:
The Cloisonne dress:
And the Kristenne dress:
The following pictures are from a divinely styled photo shoot, also featuring a Claire Pettibone bridal gown:
Such beautiful bouquets!
Jane Austen always reminds me of wildflowers, like lavender!
So Marianne Dashwood!
Could there be a more perfect Austen bridesmaid?
Remember your reticule...
...and your gloves and parasol!
A bonnet?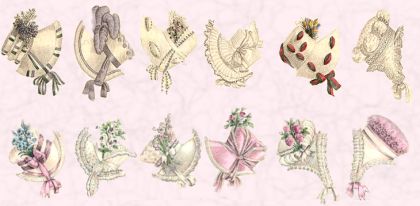 I think for the modern take on Jane Austen, we should skip the bonnet and go for a hair embellishment instead. Flowers, ribbon, berries, all dainty and sweet!
An Austen wedding reception must be an outdoor affair, preferably in an old country estate with a rose garden and a hedge maze!
Break out the tea and English china!
Now would you opt for a modern wedding cake with vintage details...
...or a cake like Mr. and Mrs. Weston had in Emma?
Jane Austen would adore these invitations, even if they are not hand-written by the hostess! And the escort cards remind me of calling cards, announcing each guest's entrance!
I love a modern interpretation on an Austen theme!
Can't resist! Here are my favorite Austen actresses!
Looks like they approve! Time to throw coins!